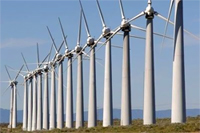 In its lifetime of about 20 years, a wind turbine has a "benefit factor" between 3000 and 8200%. That means that the turbine produces 30 to 82 times more energy than it is necessary for its creation, delivery, use and disassembly.
The noise of a wind farm on a distance of 350 m is as loud as the human whisper.
Wind farms do not disturb the environment because of the noise. A turbine with a height of 78 m with a wind speed of 12-14 m/s creates only 41 dB (for comparison: a normal conversation creates 50 dB).
Birds do not come close to wind farms.
Wind energy plants are creating no harmful emissions.
Power generation from wind is used in Europe for more than 800 years.